Evan Miller '16
Evan is a tenor from Owensboro, Kentucky.  He is a Computer Science major who has strong interests in math.  He is also actively involved in Princeton Evangelical Fellowship.
George Jian '16 [Abroad]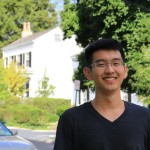 George is a spry young bass who received his education from the Shanghai American School. His claim to fame is that he holds the same birthday and name as the new British Prince George (July 22!). He applauds his parents' foresight and audacity in their child's birth and naming. At Princeton, George (not the prince) involves himself in Manna Christian Fellowship and the Breakout Program. In his spare time, George likes to imagine himself studying Philosophy and Neuroscience.
Jamal Johnson '16 [Sabbatical]
Jamal Johnson is a tenor from Tomball, Texas, and is studying Political Science. He is a writer for Revisions and is an active member of Manna Christian Fellowship.
Karis Yi '16 [Sabbatical]
Karis is a junior studying comparative politics. Though from California, she has always felt that she was meant to be on the east coast. On campus, Karis is involved with Manna Christian Fellowship and serves as a Peer Career Advisor. In her free time, she likes to read, write, and go on picnics with friends.
Daniel Tzou '16
Biography coming soon!
Mike Suk Yung Lee '16
Despite the never-ending battle to hit the high notes, Mike is a proud member of the tenor section. He loves supportive community that he finds in Kindred Spirit and is thankful for the opportunity to sing for God's glory. Mike claims to hail from the incredible city of Boston, but he is actually from a small town in its suburbs called Bedford (it's just easier that way when he meets new people). He does not really have a plan for the future, but he thinks he likes building robots. Hence, Mike is currently a Mechanical Engineering major with probable certificates (minors) in robotics and intelligent systems and applications of computing. Apart from singing to pass the time away, Mike enjoys eating, reading, running, playing soccer, tennis and squash, going to the gym, and catching a power nap in the middle of the day. In retrospect, Mike's favorite thing to do may just be eating and reading, at the same time.